Wednesday, July 29, 2015
"Whatever you are willing to put up with is exactly what you will have."
This is down to individual choice isn't it? We choose who and what we allow into our life so it follows that we know what we are getting into right? If only it were that simple? Sometimes the choices we make begin very promisingly and everything in the garden is rosy so to speak and we're happy. However, perhaps somewhere down the line, things don't stay rosy and actually turn into something very different. This is where we have to make a choice. We either stay in the situation as it is, aware nothing will change for the better, or we choose to leave. If we do stay, fully aware of the latter, then the consequences are on our own head. I know what I'd choose…what about you?
by CathiBew.co.uk
Tuesday, July 28, 2015
The Arizona Cardinals have hired the first female coach in National Football League history.
http://www.sunnyskyz.com/good-news/1255/The-Arizona-Cardinals-Hire-The-First-Female-Coach-In-NFL-History
"It is our choices that show what we truly are, far more than our abilities."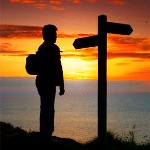 We can be extremely talented and skilled at what we choose to do in life and may even be respected and admired because of it! However, rightly or wrongly, other people judge us by the company we keep, the words we utter, and how we conduct ourselves in private and in public. They do this for the simple reason that these tend to truly reflect the choices WE make and, in turn, show us for who we really are. Therefore, wouldn't it be to our advantage to put thought and care into these choices? I know I do.
by CathiBew.co.uk
There are a lot of other people in this world. You'll do much better in life when you are good to those people.
There is one of you, and billions of everyone else. The more of those billions who have a positive experience with you, the better.
Being considerate to others is old fashioned. That means it has stood the test of time.
Before you act, before you speak, think of the impact it will have on everyone else. Then make the choice that makes the world where you live a better one.
Take care not to sacrifice the goodwill of others just to grab yourself a momentary advantage or convenience. Live with respect and consideration, even when it is not noticed.
The behavior of each person directly influences the kind of world we all live in. Make it a good place for everyone to be.
— Ralph Marston
Armed with degrees from both Harvard and Yale, Kentaro Toyama has spent the better part of his adult life trying to come up with technological solutions to help quell social problems that continue to befall some of the world's poorest societies. But in his quest, Toyama ultimately discovered that it's people and not technology, that is the real driver of social change.
http://www.dailygood.org/story/1091/the-life-you-could-save-kentaro-toyama/